Commercial Coatings - ExoAir 120 Vapor Barrier

Fluid-Applied Air & Vapor Barrier Membrane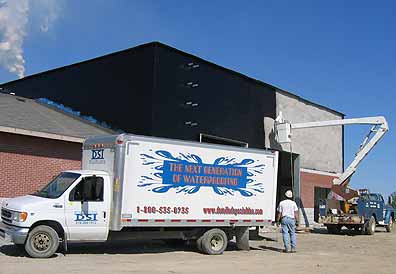 Product Description:
ExoAir™ 120 Fluid-Applied Air & Vapor Barrier Membrane is a monolithic elastomeric membrane designed to be spray-applied to exterior above-grade walls to seal wall assemblies and prevent air nfiltration/exfiltration, vapor transmission and water penetration. ExoAir 120 is compatible with and part of a complete line of air barrier systems provided by Tremco under the ExoAir brand.
Basic Uses:
Studies show air leakage is a common cause of condensation, moisture accumulation and energy loss in exterior wall assemblies. ExoAir 120 combats these problems by adding a layer of protection to properly designed wall assemblies. This protection can improve energy efficiency by up to 40% and provide building occupants with increased comfort. It can also reduce the damaging effects of condensation, and the related risk of mold growth.
ExoAir 120 is a seamless, fully adhered air and vapor barrier. It is water-based, environmentally responsible and can be applied to damp or dry surfaces without the use of a primer. ExoAir™ 110 Self- Adhered Air & Vapor Barrier Membrane is used as a transition membrane into door and window openings and is designed for use with ExoAir 120. ExoAir 120 is compatible with ExoAir™ TWF - Through-Wall Flashing Membrane and other ExoAir™ Air Barrier System components.
Applicable Standards:
ExoAir 120 meets the most rigorous industry standards for air permeability:
ASTM E-2178-01 Standard Test Method for Air Permeance of Building Materials
Massachusetts State Building Code 780 CMR 13 Energy Conservation Requirements for the Building Envelope
DETAILED SPECIALTIES INC. is an Authorized Multi Urethane System Installer.
Call or E-mail - We can help you chose the right solution for your needs and your budget!
MEMBER OF

350 National Rd., Box 604,
Chatham, ON
N7M 5K8
Tel: (519) 354-7572
Fax: (519) 354-1832