New Basements - Geo-Wrap Drainage Composite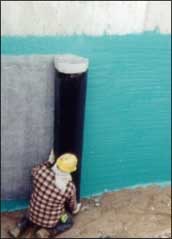 Geo-Wrap Drainage Composite
Geo-Wrap is a high-performance, high strength drainage composite consisting of a three dimensional, high impact polypropylene core and a non-woven filter fabric. Geo-Wrap performs a multi-faceted role by providing protection for waterproofing systems and managing sub-surface water around building foundations. Geo-Wrap provides effective protection for foundations of all kinds, in applications ranging from major civil and commercial projects to residential basements.
Geo-Wrap's geo-textile and polypropylene are welded together in a special thermal process to form a permanent bond. Unlike conventional geo-textile membranes which are glued, Geo-Wrap's filter fabric will not easily separate and isn't subject to slipping over time. Soil backfill is retained by the filter fabric while allowing water to pass into the drainage core providing hydrostatic relief.
Collected water is then conveyed to a proper collection system.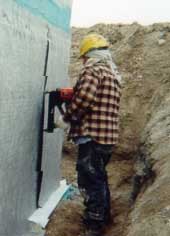 Uses:
Foundation walls
Retaining walls
Planters
Lagging Systems
Bridge abutment
Call or E-mail - We can help you chose the right solution for your needs and your budget!
MEMBER OF
350 National Rd., Box 604,
Chatham, ON
N7M 5K8
Tel: (519) 354-7572
Fax: (519) 354-1832