New Basements - TREMproof 260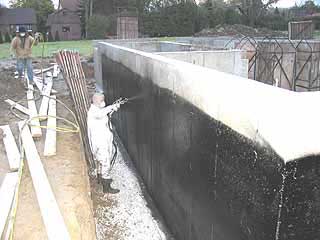 Product Description
TREMproof® 260 Spray-Applied Waterproofing Membrane is a polymer-enhanced, single-component, fluid-applied asphalt emulsion waterproofing membrane.
It is designed for spray application to concrete, masonry and other structural substrates, primarily in vertical installations.
TREMproof 260 is water-based, so it can be applied to damp or green concrete. Also, it complies with the Volatile Organic Compound (VOC) limits established by the South Coast Air Quality Management District (California).
Additionally, TREMproof 260 can be applied either with or without cospray, allowing for job-specific flexibility in application methods.
Basic Uses
Typical applications for TREMproof 260 include foundation walls, retaining walls and most backfilled applications.
Installation
Surfaces to be coated must be clean, smooth, firm, free of dust, mud, loose mortar, wires, fins, metal projections or any other substances that might prevent placement and bonding of a continuous film.
Take particular care to ensure that the footing and cove are clean. Following good drainage practice, structural slabs should be sloped to drain a minimum 1/8" (3.2mm) per running foot (30.5cm).
On poured concrete walls, remove wall ties on outside and inside of wall. On poured concrete walls, tie holes and other voids, honeycomb, rock pockets, etc. shall be patched with a non-shrinking grout.
DETAILED SPECIALTIES INC. is an Advanced Coatings Select Waterproofing Dealer and Applicator - assuring that every job is completed to the highest quality standards!
Call or E-mail - We can help you chose the right solution for your needs and your budget!
MEMBER OF

350 National Rd., Box 604,
Chatham, ON
N7M 5K8
Tel: (519) 354-7572
Fax: (519) 354-1832